Jon Sarkin featured in Gloucester Daily Times Article

Embracing the unexpected
Cape Ann artist Jon Sarkin created this mural for Mullen Advertising in Boston. Sarkin is holding an art show and talk this Friday, Dec. 11, at 6 p.m. at Short & Main in Gloucester.
Posted: Thursday, December 10, 2015 3:15 am
Cape Ann's Jon Sarkin is a master of the unexpected, by both fate and design.
For the first time in his hometown, the local artist will host a show and talk this Friday to share his journey and the latest evolution of his artwork.
Sarkin, a chiropractor in his former career, adapted to a life-altering brain injury, from which he emerged a different man, by pouring his ceaseless fountain of creativity onto canvases. In 1988, following surgery, he suffered a stroke.
"My vision of what life is all about is pretty different than most people, and I feel it's important for me to communicate that unique vision to other people whose lives have turned out different than expected," he said.
Pulitzer Prize-winning repor
ter Amy Ellis Nutt wrote Sarkin's biography in a 2011 book titled "Shadows Bright as Glass: The Remarkable Story of One Man's Journey from Brain Trauma to Artistic Triumph." Two years earlier, Nutt, a Star-Ledger reporter, was named as a finalist for the 2009 Pultizer Prize for feature writing for her article "Jon Sarkin: The Accidental Artist."
In the aftermath and recovery from his medical trauma, Sarkin said he is privy to an unspoken understanding that almost universally emerges after some type of health crises or near-death experience.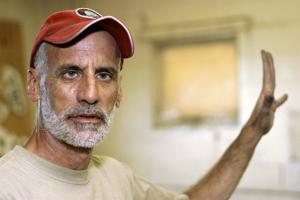 "Because of that, you come back with insights," he said.
Sarkin's talk, which will feature some video segments and slides, will encompass his artistic visions, both past and present. He also will share some MRIs of his changed brain. One video will feature his recent commission to create a 20-foot mural titled "Unbound" for Mullen Advertising at its offices at 40 Broad St. in Boston.
His early artwork often incorporated letters and words of some sort, often in random patterns with doodles as the images came to him. But like many artists, Sarkin's work is always expanding. He has been focused on landscapes as well as portraits, both of which will be part of the art show.
"I'm getting away from the text-based work I've done in the past. My painting is more figurative and realistic than it was in the past, but I'm still doing text-based stuff for new endeavors as I explore," he said.
Sarkin, who has given talks in Massachusetts and Maine, as well as England, has never given a formal talk in Gloucester.
"What this is all about for me is coming back home and dealing with the hometown crowd," he said.
After the talk, guests are invited to visit his art studio at Fish City Studios, across the street from Short & Main where his talk will be held.
"I feel that in a way my studio is an installation piece," he said. "People can see where it all happens. It's all happening right here in the heart of Gloucester. This is about Gloucester. I feel that it's important for me to do something like this in my hometown and let people who probably wouldn't experience what I am all about to hear what I'm all about and ask questions."
Sarkin's studio space exudes evidence of his compulsive passion to create art, large and small, on any surface, like an old album cover, a scrap paper or an enormous canvas. The helter-skelter trail of papers and other materials all lead to his artistic fountainhead.
Ken Riaf, who traveled to Oxford, England, in 2013 with Sarkin to present a talk of his own, described the artist's work as "unfiltered."
"In his talk, he chronicles his journey in a way that's very entertaining," said Riaf. "He is outside 'outsider art.'  His art faucet is welded onto the 'on' position."
Sarkin's story was part of a review about an Oxford University gallery exhibition, which explored the effects of neurological conditions through art. The 2013 article in The Oxford Student, "Affecting Perception: Art & Neuroscience," stated: "After recovery, (Sarkin) experienced compulsions to draw and paint, a condition known as 'sudden artistic output'; one of only three cases caused by brain injury to be documented."
Sarkin has overcome both tangible and intangible obstacles.
"I think I can expand people's definition for what it is to be alive," Sarkin said. "If I'm doing what I'm doing, it's my responsibility as a human being to tell people 'Hey, you can widen your horizons.' There is a lot more to life than brushing your teeth and paying bills."
Gail McCarthy can be reached at 978-675-2706, or via email at gmccarthy@gloucestertimes.com.
If you go
What: Cape Ann's Jon Sarkin art show and talk
When: Friday, Dec. 11, 6 p.m.; art show on view through Sunday, Dec. 13.
Where: Short & Main function room, 36 Main St., Gloucester
More: Doors will be open at 6 p.m. to view the show; Sarkin's talk will begin at 7 p.m.; and from 8 p.m. on, attendees are invited to view his art studio across the